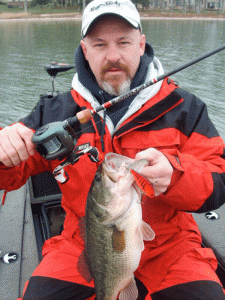 Scott Favors, a.k.a. Gunny, is a retiree from USMC and now is employed for USMC at the headquarters U.S. Marine Corp, Pentagon.
Gunny joined KipperSticks in January 2009.  His strengths in fishing are Swimbaits, Crankbaits, Spinnerbaits, Power Fishing, and Finesse Techniques.  He has a 2005 BassCat Sabre with a Mercury XR6.
With a third place finish in a two day Region 1 Potomac River Classic in October 2009, Gunny wins the Bandit Bass Anglers "Angler of the Year" title for 2009.    Congratulations Gunny!  He has been with Bandit Bass Anglers since 2008.
In 1998, Gunny placed in the Top 5 Cullman Bassmasters in Jasper, AL over the next 3 years.
In 1995, Gunny was 1 of 10 founding members of the Bass-N-Ators Bass Fishing Club, Poway, CA and served as Tournament Director, Vice President, and President over the next 3 years.
In 1989, Gunny was a part of the Military Bass Anglers Association (MBAA) and went on the qualify for National Championship 4 consecutive years (1990-1994) with his highest National Ranking of 15th.  His highest national finish was 20th in 1992 MBAA National Championship, Beaver Lake, AR and best "streak" was 1991-1993 with 1st in every tournament participated in on Lower Colorado Chain from Lake Martinez to the Mexican Border.